Increase Operational Efficiency With Industrial AR, AI and IoT
Leverage intelligence across an organization to accelerate decisions, reduce costs, increase productivity and improve worker safety.
WATCH ONSIGHT IN ACTION
THE ONSIGHT AUGMENTED REALITY PLATFORM
POWERING THE AI CONNECTED EXPERT
Enhance your digital transformation strategy to empower your workers and customers with immediate access to the content, people, smart data and guidance needed to inspect and solve issues quickly. Deployed globally, the Onsight Augmented Reality Platform increases operational efficiency in industries such as manufacturing, aviation, energy, heavy equipment and field service.

Onsight is an AR industrial solution built to perform in rugged environment including areas with extremely low bandwidth. Backed by central management, Onsight offers valuable insights through robust data analytics and dashboards.
With a broad range of software capabilities and optional inspection accessories, the Onsight augmented reality platform is the most comprehensive augmented reality enterprise software on the market.
Gain consistency and productivity through digital work instructions
Verify and support using remote expert video assistance
Create intelligent data with AI Computer Vision
Capture and centralize content for training and audits
Visualize IoT data from test instruments and data sources
An Onsight call is made every
The Onsight augmented reality enterprise platform runs on a diverse range of hardware devices including smartphones, tablets, personal computers, smart glasses and head-mounted wearables. The Onsight Optimized™ program ensures that the experience is tested and verified.

Implement a streamlined digital transformation strategy by integrating Onsight to back-office systems, IoT data sources, and content repositories for cohesive end-to-end system visibility, metadata augmentation, and enhanced business intelligence.
The Onsight REST APIs provide integration across your digital ecosystem. Simply start a Connect call or initiate a Flow job from your ERP or CRM system. As part of your workflow, access IoT data in the field and automatically tag content with relevant metadata for advanced search and analysis.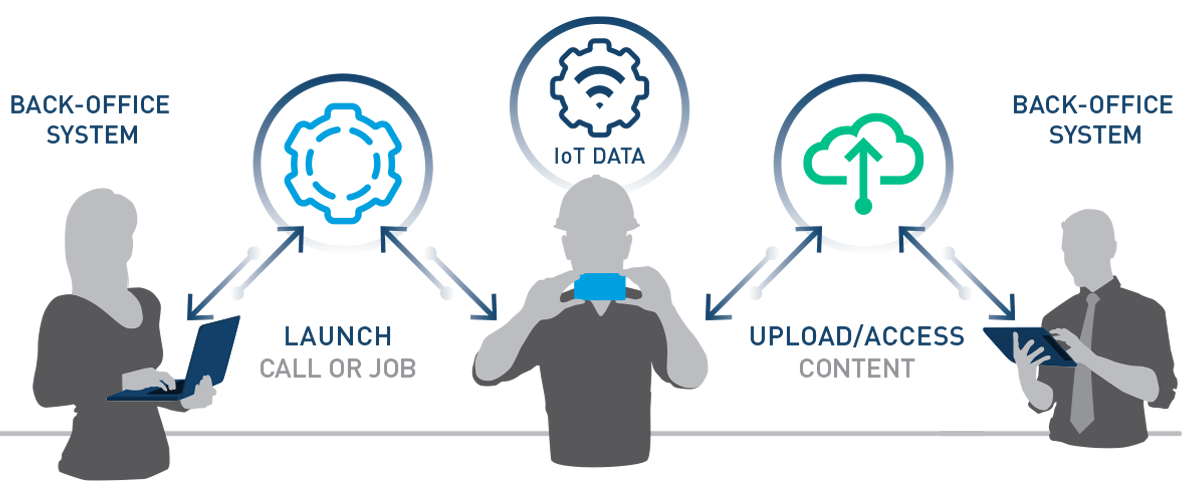 Librestream invests heavily in the overall security, privacy control, network and central management of the Onsight platform including:
Certified as ISO 27001 and 27018 compliant by accredited 3rd party independent audit
Secure data centers – load balanced, automated failover, data back-up
Rigorous monitoring of application and network vulnerability threat assessments with ongoing external 3rd party scans
Rigorous penetration testing with ongoing external 3rd party monitoring
GDPR compliant solution through centralized privacy and content controls. Read Librestream Privacy Policy – Onsight Services for more information.
Formal processes for business continuity including data back-up/recovery
Centralized management of security settings, network consumption, privacy control, and more
AES media encryption, TLS cryptographic protocol, Single Sign On (SSO), WiFi network security protocols, and optional app distribution via MDM

Librestream provides a broad range of professional services to help you accelerate the benefits and scale your Onsight deployment successfully as a part of your overall digital transformation strategy. Depending on your initiative, you can deploy within 24 hours, or work with our customer success teams on a custom deployment plan.
Available services include:
Customer Success Programs including deployment planning, access to e-learning content, communications programs, and best practice alignment
IT and Security services to complete assessments and configurations
Custom branding to provide a unique experience
Ecosystem integration to simplify workflows