Onsight Augmented Reality Service Platform
Onsight Connect
Software
The Onsight Connect remote expert software delivers a fully collaborative environment to provide teams access to augmented content to  troubleshoot, assess, and rapidly resolve issues in the field by bringing in virtual experts. Onsight Connect software powers a full range of mobile devices including smartphones, tablets, computers, smart glasses, and Onsight Smartcams for a consistent experience that fits all use cases and environments across an enterprise.
REQUEST A DEMO
Uniquely designed to diagnose assets and solve complex problems across challenging field environments.
A colleague, supplier, or customer might be on the other side of the world, but remote experts can stay in the office, sharing audio and video, circling and marking areas that need attention, adjusting lighting, and recording or capturing still images to develop a lasting knowledge base.
Onsight Connect remote expert software runs on smartphones, tablets, smart glasses, desktops, and Onsight devices for a consistent experience in the field. Designed to collaborate on 'things' in various field environments, teams can rapidly diagnose, inspect, and resolve issues in ultra-low bandwidth situations - even in a basement over cellular or on an offshore oil rig over satellite.
Deployed globally, Onsight can scale with your operation. Controlled and secured by a robust back-end management solution and infrastructure, Onsight meets the needs of the most stringent IT and security environments.
Use Onsight on Smartphones
Onsight runs on iOS and Android smartphones including consumer and hardened, Ex-certified devices.
Use Onsight on Tablets
Onsight runs on iOS, Android, and Windows tablets, bringing live video diagnostic capabilities to existing workflows.
Use Onsight on Smartglasses
Onsight runs on Android smart glasses, typically in 'Field' user mode and controlled remotely to simplify use.
Use Onsight Smart Cameras
Ideal for locations with strict security or when highly detailed visuals matter, Onsight powers Librestream's smart camera devices.
Use Onsight on Computers
Onsight runs on Windows computers and laptops, adding specialists and teams to Onsight collaborative sessions.
This Frost & Sullivan research report provides an in-depth analysis of different video collaboration technologies. Learn why Librestream earned the Best Practices Award for this video collaboration solution category.
To access the full report, please complete the form below.
Telestration

Quickly identify areas for further analysis by drawing over live or recorded video and images.

Remote Control

Remotely control the field camera to get the right visuals and reduce training for the field.

Content Sharing

Share high resolution images and playback recordings to step teams through resolution.

Bandwidth Adaptive Streaming

Optimize performance of audio and visuals across all field environments, solve problems with as little as 64 kbps.

Broad Field Device Support

Deploy on hardened or wearable devices, smartphones, computers, and tablets. Attach specialized test instruments for comprehensive inspections.

Guest Invites

Quickly bring in guests to live Onsight collaborative sessions, ideal for customers and suppliers.

Tag, Search, Share

Build a centralized knowledge base of images and recordings - add tags, search, and share in future sessions.

Adoption Program Support

Gain insight for adoption programs with Onsight usage statistics and customized workflow experience.
Request a Demo
Get a live demonstration of Onsight Connect and the Onsight Augmented Reality Service Platform.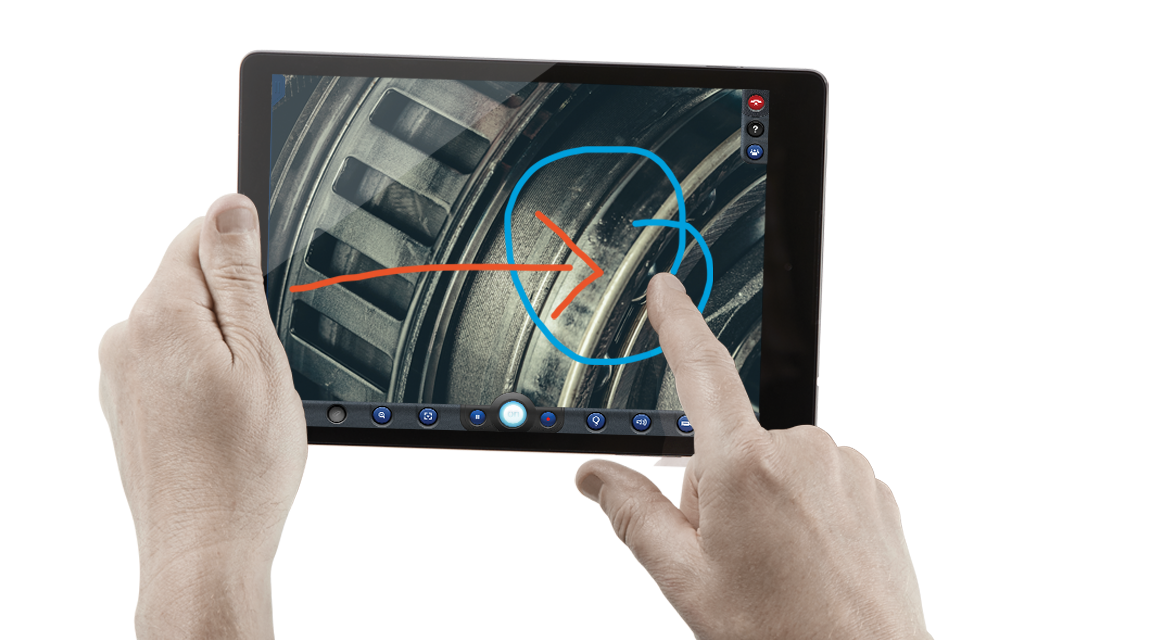 Onsight Augmented Reality Service
Platform
See the other solutions that make up the Onsight Augmented Reality Service Platform