Three Compelling Use Cases for RealWear and Librestream's Joint Assisted Reality Solution
---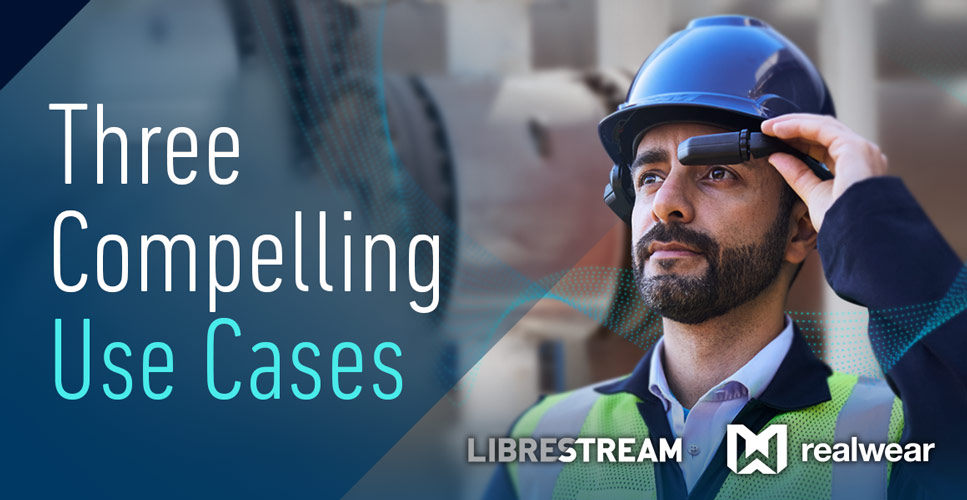 How the RealWear HMT-1 assisted reality device powered by Onsight unlocked measurable business outcomes for leading organizations like Renault Trucks, Vestas and CEC Mining
According to a recent report, the global industrial wearables market is expected to grow by more than 12.4% by 2027. This growth isn't surprising. As a result of Industry 4.0, companies across the globe are increasingly deploying assisted reality technologies to support their workforce and enhance safety, productivity, and cost savings. Assisted reality wearables, like the RealWear HMT-1 device, are a critical aspect of digital transformation for industrial workforces. These devices offer workforces hands-free operation and solve a critical issue modern industrial workers face: accessing relevant information, the right people, and appropriate guidance when they need it.   
Designed for the industrial workforce, the RealWear HMT-1 can be set up in minutes and is very easy to use, controlled by simple voice commands, even in high noise environments. Adding Librestream Onsight Connect, workers can improve decision-making and time to issue resolution by sharing live visuals, collaborating with remote experts on a live video call, and capturing and sharing data through a secure content management system. With voice commands and a micro-display that can be moved out of the way when not in use, the HMT-1 delivers the right information in real-time while freeing up your workers' most important tool—their hands –so they can continue performing their tasks safely and efficiently.   
While there are several use cases for the HMT-1 powered by Onsight, we will identify the most common use cases of this joint solution in this blog.  
CONNECT WITH SUBJECT MATTER EXPERTS FROM ANYWHERE
Industrial workforces rely on offsite subject matter experts (SMEs) to fix complex equipment breakdowns or to receive regulatory sign-off on a fix or installation. Depending on where the SME is located, bringing the expert on-site can cause delays resulting in increased downtime and lost revenue. To help overcome this challenge, organizations use RealWear HMT-1 devices to enable collaboration between SMEs and field workers.   
For Renault Trucks, this joint solution enabled remote support across a network of 72 service outlets across the UK and Ireland. With it, licensed service centers can virtually connect with OEMs and other service desks for immediate and effective asset repair and maintenance. The company reported that deploying RealWear devices integrated with Librestream's solution has helped them reduce the time required for complex service procedures from 24-48 hours to 20-30 minutes, resulting in higher asset uptime.  
BUILD A KNOWLEDGE NETWORK 
A study reported that an average U.S. enterprise could lose over 4.5 million in productivity because of failing to preserve and share knowledge, making new hire onboarding more inefficient. To help combat this knowledge loss, organizations can use Librestream's Onsight and RealWear's HMT-1 devices to record and save sessions, take HD images, collect data using IoT visualization and AI computer vision and more. This data is then saved on a secure knowledge base and can be shared with existing and future workforces.  
For Vestas, making the decision to choose Librestream and RealWear's joint solution was easy. With a proven track record and extensive experience in their respective fields, both organizations offered Vestas the opportunity to capture and share knowledge from their retiring workforce. With the RealWear devices in their digital toolkit, the organization reported accelerated onboarding, improved operator training and enhanced information accessibility.  
SUCCEED IN ANY ENVIRONMENT
Designed for the toughest industrial environments, the RealWear HMT-1 is ruggedized and offers capabilities like noise cancellation at 100dB, an outdoor display, low-bandwidth collaboration, natural language processing, speech recognition and more. These capabilities enhance worker safety – from working on a manufacturing plant floor to repairing heavy equipment on an oil rig or on an offshore wind turbine. 
In another example, CEC Mining incorporated the RealWear HMT-1 device running Librestream's Onsight into their inspection processes. A large portion of CEC Mining System's steel fabrication is completed in China, and before the pandemic, quality assurance and compliance as well as factory accepted testing (FAT) was done in person. With COVID-19 travel restrictions, North American field engineers could no longer inspect assets on site. To help CEC Mining maintain quality, field engineers connected with workers on the floor at their fabrication plant in China to complete these regulatory audits and quality assurance inspections.  
There are many benefits associated with using RealWear's and Librestream's joint solution. While our clients most commonly report accelerated service, cost savings, worker safety, and productivity gains, organizations are continually finding new ways to utilize this technology across their various business units. To learn more about our joint solution, please contact us today!  
Want to hear how Siemens Energy partnered with RealWear and Librestream to launch their connected worker solution? Watch the free webinar here.