Microsoft Teams or Librestream Onsight? The Answer is Both.
---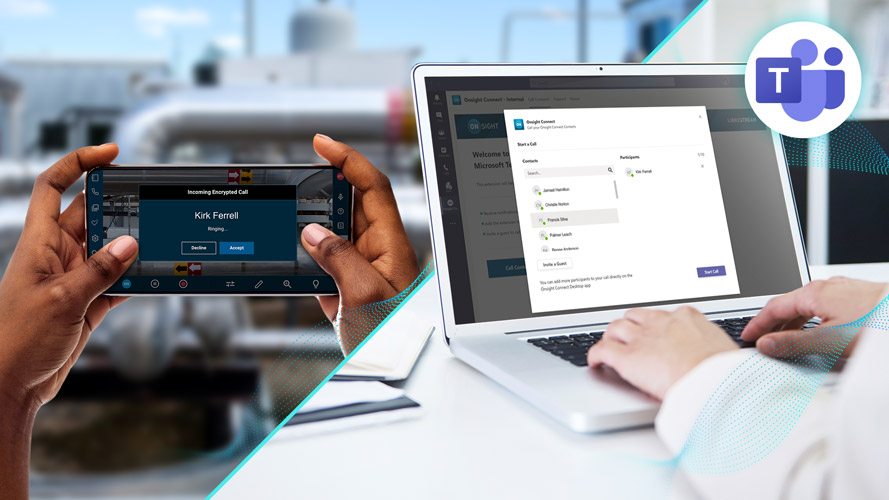 How Microsoft and Onsight's new integration empowers connected workers across the globe
Many global office teams use leading communications platforms like Microsoft Teams to communicate, share presentations, and collaborate effectively. However, the solutions that perform for office workers are not the same for those working in industrial environments. Often, deskless workers, who make up 80% of the global working population, have different collaboration needs. Furthermore, office and industrial workforces must increasingly collaborate. If the needs of a collaboration solution are different, how can they collaborate effectively? Enter: integration of Librestream's Onsight AR platform for industrial workforce collaboration into Microsoft Teams.
To enhance collaboration, resiliency, safety, and knowledge sharing for the industrial workforce, Librestream recently announced a combined offering with Microsoft Teams. This new capability offers both Microsoft and Librestream clients the opportunity to launch an Onsight call directly from the Teams app.
You may be wondering which scenarios would call for both Teams and Onsight calls. In this blog, we will discuss the critical ways both these best-in-class enterprise platforms empower connected workers.
Advanced asset collaboration
With the new specialized capabilities for Teams, users can utilize Onsight's advanced asset collaboration features to identify and solve critical machinery and equipment problems quickly. With leading-edge IoT visualization and AI computer vision, our AR enterprise platform can recognize assets and automatically tag content critical to capturing and sharing knowledge. Other Onsight features that create an immersive experience for Teams users include screen sharing, video recording, real-time translator, remote control of a remote worker's camera and advanced telestration capabilities.
Low-bandwidth collaboration
As the most deployed industrial AR platform, Onsight is designed to augment tools like Teams in rugged and low-bandwidth environments. With the ability to take HD photos and collaborate on a live video call in bandwidths as low as 30 kbps, field workers in the most challenging industrial situations can access the right data, people and tools.
Multi-party collaboration
With complex issues, our clients report utilizing several subject matter experts to resolve problems. To ensure a smooth multi-party collaboration experience, Onsight offers users the ability to send secure guest invites and fully control how data is saved and stored from the call. With the integration, users have the added ability to use Teams presence to indicate who is available for an Onsight call. This feature makes it easier for remote workers to connect with the right team member to get the information they need.
With a shared history of successful joint initiatives with Microsoft that span integration of the Onsight platform across key Microsoft technologies, we are excited to bring specialized solutions with business leaders like Microsoft to our consumers. If you would like to learn more about our new Teams capability, please contact us to book a discovery call.