Three Critical Ways Burns & McDonnell Clients Can Use Onsight for Improved Efficiency
---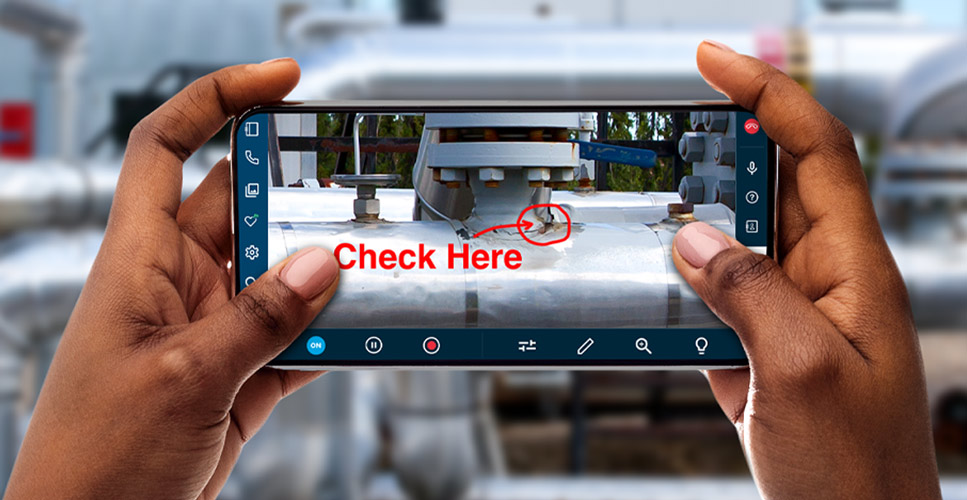 How a new partnership between Librestream and a leading engineering firm is helping field workers access information, enhance safety and improve overall productivity
According to a T&D World survey of over 17,000 energy and utility professionals, 38% of those surveyed reported that their company had already been affected by skills shortages, while 48% are concerned about an impending talent emergency. Workforce and skills shortages often result in significant knowledge loss. To help utility workers preserve knowledge and collaborate more effectively, Burns & McDonnell, an engineering, construction, and architecture firm, and Librestream announced a joint AR-enabled solution to help critical infrastructure clients navigate unprecedented challenges.
In this blog, we will discuss how this new joint solution enables increased productivity and workforce safety with the following capabilities.
Remote Collaboration in Rugged Environments
Collaborating with subject matter experts (SME) is critical to ensuring field workers have the support, knowledge and expertise they need to perform their job safely, especially when troubleshooting is necessary. SMEs aren't always available on-site or even in the same city as the facility. So, what can organizations do when travelling to perform site visits simply isn't possible? A live video call can help get workers the information they need to complete a task or troubleshoot equipment. With an AR-enabled remote expert solution, workers can further immerse themselves into the task remotely with features such as AI Computer Vision, IoT data Visualization and more. Calling from the field using Onsight also allows the team to capture situational information for future training and work processes.
Data Gathering and Knowledge Capture
With equipment becoming more sophisticated and processes becoming more complex, field workers need access to data and knowledge at the touch of a button. Onsight allows users to take HD photos, record sessions, access shared documents, input data, relevant content and more. With this joint technology, users can minimize time spent sorting through data. It has demonstrated faster field documentation than compared to traditional methods, with Librestream noting a potential 70% productivity gain.
Step-by-Step Guidance with Digital Work Instructions
Manual paper-based processes are often time-consuming and harder to sort through when workers need clarification on a particular step or task. With digital work instructions, businesses can take the guesswork out of the equation. Field workers, especially those with minimal experience, can complete tasks with step-by-step workflows and reduce error margins. With workflows and guided forms, the software captures and organizes field knowledge automatically.
Burns & McDonnell and Librestream hope to enable automated on-the-job training, reduce cognitive load, and drive operational insights for industrial workforces through the value-added partnership. To learn more, join us on Sept. 28, 2021, at 11 a.m EDT for an overview of the platform and to learn about a specific use case associated with bulk electric system reliability (NERC FAC-008 inspections). Sign up for the webinar here.