The Critical Challenges Remote Collaboration Solves for A&D Organizations
---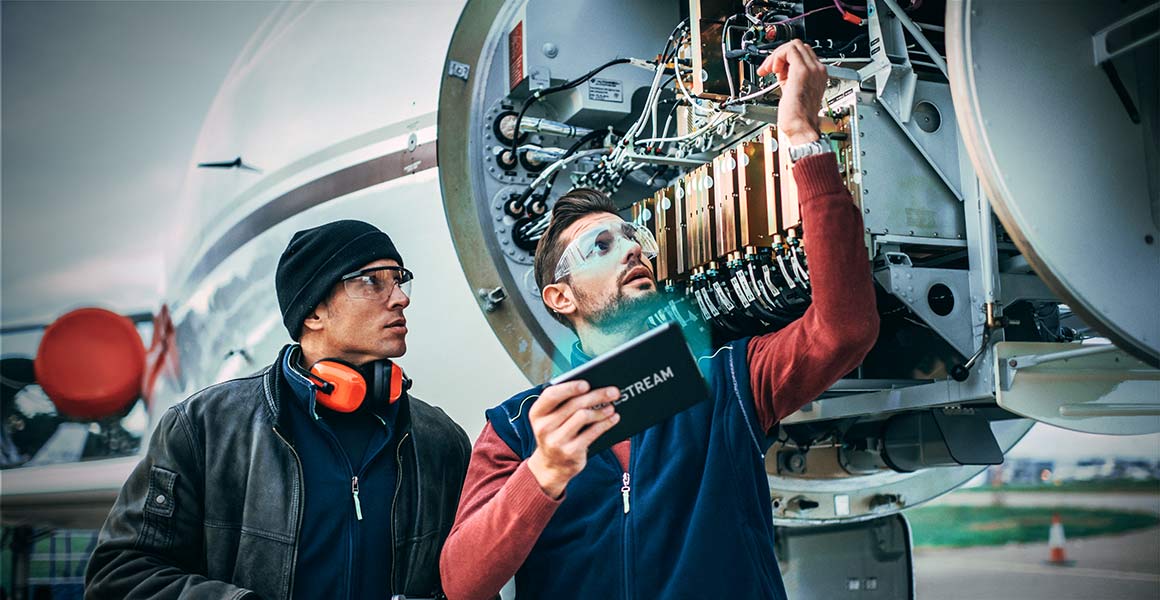 From remote inspections to reduced AOG, here are the top three challenges AR digital transformation solutions like Onsight can help solve for the industry.
From mass retirements to lack of available talent, workforce challenges are emerging across all industries. In the A&D sector, manufacturers estimate that they will have 3.5 million vacancies by 2026. Due to significant talent shortages, two million of these vacancies will remain unfilled, resulting in revenue losses of over USD 49 billion. This, in addition to supply chain disruptions caused by global events like the COVID-19 pandemic, are all leading A&D organizations to increasingly invest in digital transformation solutions that enable agility, sustainability, and resiliency.
According to a survey conducted by BCG, 79% of A&D executives identified remote work tools and solutions as the biggest category of digital investment. In this blog, we will discuss the key challenges these tools solve and why a majority of executives are investing in them.
Lack of Expertise
The A&D supply chain is complex and consists of several tiers of suppliers, including original equipment manufacturers (OEM), maintenance, repair, and overall (MRO) providers, and customers such as global airlines and defense forces. In the event of a repair or maintenance issue, organizations have to connect with multiple suppliers and experts to identify and resolve problems accurately. Traditionally, these experts would need to be brought on site to inspect and approve a supplier-manufactured product or resolve an equipment issue at a facility. Due to the travel time required, this process often resulted in delayed production times or increased time to repair and maintain equipment.   Add the growing talent shortages across all verticals into the mix, and now these experts are not only harder to bring onsite but also harder to find. Using remote expert tools, like Onsight, suppliers in the A&D supply chain can connect with experts across the globe when they need, in any location and on any device. Remote collaboration solutions allow skilled workers to manage their time better by enabling them to complete remote inspections, auditing, collaboration, and mentoring at the touch of a button.
Faster Training
As experienced workers retire and younger workers take their place, organizations need to have training plans that enable on-the-job training and mentoring. Without the proper guidance and expertise, A&D organizations risk increasing asset downtime, workplace safety incidents, and more. Digital transformation solutions offer opportunities to enhance training and onboarding through virtual training/mentoring, peer-to-peer mentoring, digital work instructions, AI data visualization, and IoT data at the point of service.
Reduced AOG
Aircraft-on-Ground (AOG) often results in flight delays and cancellations for commercial airlines and reduced mission readiness for defense organizations. According to Boeing, a one-to-two-hour delay due to AOG costs as much as $150,000. So, performing the required repairs and maintenance quickly and efficiently can save A&D organizations millions of dollars a day on just one aircraft. With remote collaboration tools, technicians at the point of service can quickly connect with subject matter experts, engineers, OEMs, and suppliers, all in a single multi-party call to get an aircraft in the air as soon as possible while still meeting safety regulations. Technicians can also share images, mark up areas of relevance, and use AI data visualization to quickly identify and resolve issues.
Exploring digital transformation solutions but don't know what the estimated impact on your organization could be? Try our free Value Calculator to see the estimated productivity gains, cost savings, and carbon reductions associated with deploying remote expert collaboration technology for your specific use case. If you have any questions, please reach out to a member of our team.