Join Us at EWTS 2021 Every Wednesday from October 6-27
---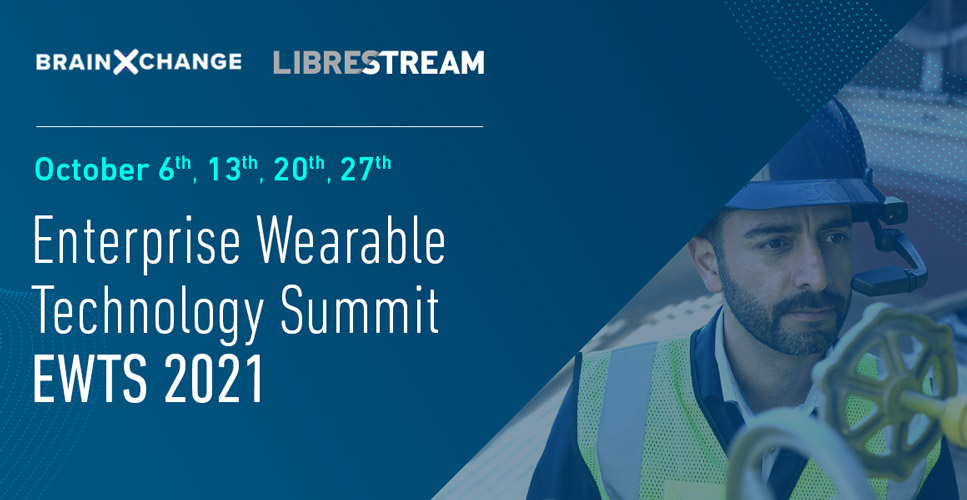 We're excited to attend and speak at the Enterprise Wearable Technology Summit (EWTS) 2021 every Wednesday this October. Join us at the longest-running and most comprehensive event to learn about industrial wearable technology, its applications, and the role augmented reality (AR) and artificial intelligence (AI) play in enabling a more resilient workforce.
WHEN:
Every Wednesday, October 6-27, 2021 | 9:00 AM – 3:00 PM Pacific Daylight Time (US &Canada)
Speaking Sessions
Presentation – The Future of Industrial Work is Powered by AR
As heavy equipment becomes increasingly complex and automated, organizations are realizing how the right knowledge and tools can help workforces tackle knowledge loss, decreased productivity, reduced efficiency and more.
Join digital transformation visionaries from National Oilwell Varco (NOV), Librestream, and RealWear to learn how NOV integrated AR and assisted reality wearables into their industrial operations, use cases of these technologies, the benefits they've realized, challenges, advice to others, and more.
SPEAKERS:
Charlie Neagoy – SVP, Customer Success, Librestream
Rama Oruganti – Chief Product Officer, RealWear
Katie Saski – Director of Sales, Aftermarket Programs, NOV Rig Technologies
WHEN:
Wednesday, October 6, 2021 | 2:30 PM – 3:00 PM Pacific Daylight Time (US &Canada)
Panel Discussion – XR in Utilities, Energy, & Field Services
Join Librestream's VP of Global Utilities, Gary McAuliffe, at a panel discussion on XR in Utilities, Energy, & Field Services on October 20. In this interactive session, featuring experts from Schlumberger, Subsea 7 and Southern Company, you will have the opportunity to learn how you can leverage AR/VR wearables to:
Improve worker safety & productivity
Reduce time to issue resolution
Enhance training & onboarding
Enable faster decision making for your workforce
PANELISTS:
Gary McAuliffe – VP of Global Utilities, Librestream
David Redding – Digital Innovation Manager, Schlumberger
Jean-Baptiste Farge – Global XR Manager, Subsea 7
Wesley Bausch – Innovation & Technology Project Manager, Southern Company
WHEN:
Wednesday, October 20, 2021 | 12:30 PM – 1:25 PM Pacific Daylight Time (US &Canada)
Public Meetings
Neal Tomblyn – How the Aerospace and Defense (A&D) Industry Uses Librestream's Onsight to Maximize Business Outcomes
Join Neal Tomblyn, senior defense advisor at Librestream and former Lockheed Martin Executive, to hear how a major A&D OEM uses remote collaboration solutions to repair and maintain assets, enhance consumer experience, and manage supplier relations. We will also discuss the importance of selecting a fitting technology provider, the future outlook of AR and VR in the A&D industry, as well as the benefits gained by implementing remote collaboration technology.
WHEN:
Thursday, October 14, 2021 | 10 AM Pacific Daylight Time (US & Canada)
Tuesday, October 19, 2021 | 9 AM Pacific Daylight Time (US & Canada)
Gary McAuliffe – How XR/Wearables can support Sustainability and De-Carbonization Goals
Sustainability efforts are at the forefront of most leading companies' agendas. In fact, 84% of executives consider a sustainability strategy critical to be competitive today and in the future. Initiatives that support sustainability enable companies to meet consumer demands, increase efficiency, attract talent, create new opportunities and add brand value. Join Gary McAuliffe, Librestream VP of Global Utilities, to learn:
How reducing operating costs in the energy sector enables increased investment in decarbonization
How XR and wearables dramatically reduce truck rolls, airplane flights, other high-carbon-emitting tasks
Specific examples of how XR and wearables are helping companies meet sustainability goals
How XR and wearables can be highlighted in your annual sustainability reports
WHEN:
Thursday, October 21, 2021 | 10:30 AM Pacific Daylight Time (US & Canada)
Tuesday, October 26, 2021 | 9:30 AM Pacific Daylight Time (US & Canada)