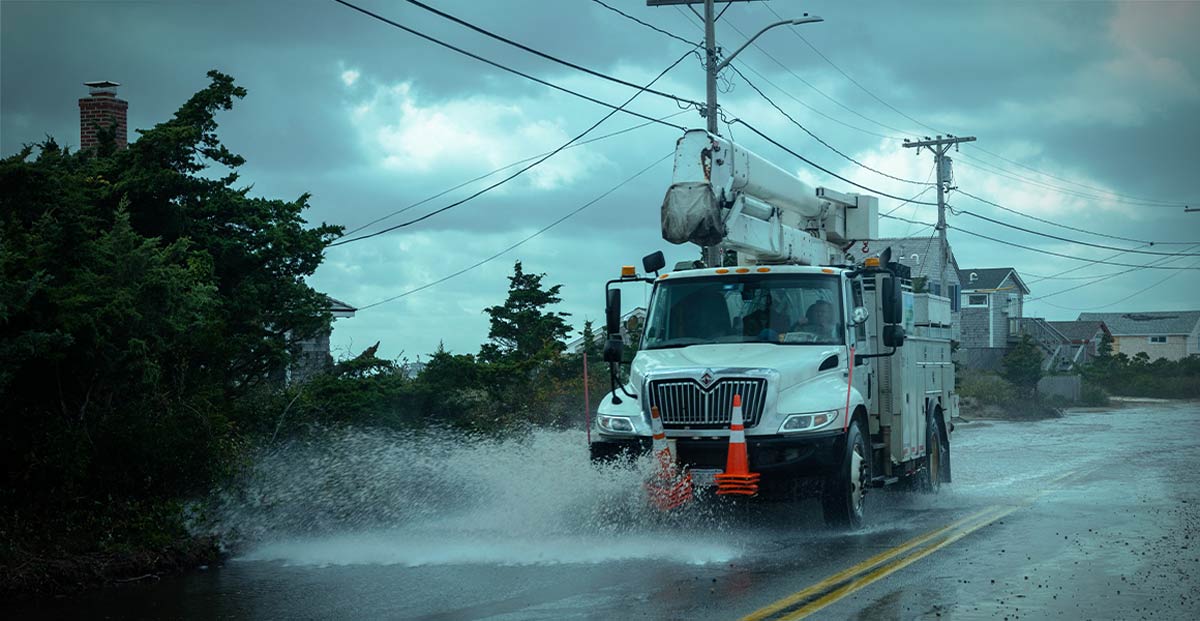 When floods, hurricanes, and other natural disasters strike, it's critical to get the lights back on and the water flowing as soon as possible. Here's how. 
The world has experienced numerous catastrophic weather events over recent years. Whether it's tornados in Kentucky, floods in Nepal, a deep freeze in Texas or massive bushfires in Sydney and California, there's strong evidence that the Earth's climate is growing warmer and thus more susceptible to extreme weather events. And as those who've experienced such disasters can tell you, the disruption often extends well beyond the weather event itself as power grids fail and water systems go offline, often for weeks.
Unfortunately, it seems the situation will only get worse. A report from the U.S. Global Change Research Program, for example, states that "rising temperatures, sea-level rise, and changes in extreme events are expected to increasingly disrupt and damage critical infrastructure." In addition to increasing weather events, much of  the U.S.' transmission lines and power transformers are more than 25 years old, with some experts suggesting that "energy and transportation sectors are unprepared for the impacts of climate change." Other countries face similar challenges.
According to McKinsey, due to outages caused by storms over a 20-year period, a typical utility saw $1.4 billion in storm-damage costs and lost revenues. A majority of these costs go towards labor costs. More often than not, grid repairs after a storm require significant external support to help utilities get the lights back on for their customers.
Extreme weather events will become increasingly typical as the world grows warmer, its weather more calamitous. At the same time, power grids and associated technology are only growing more complex, a situation that will become critical as the U.S. government begins to deliver on the promises made in its Infrastructure Investment and Jobs Act. These include improvements to power distribution systems as well as greater reliance on solar, wind, battery power, and other forms of renewable energy infrastructure.
The question then becomes: how will the power utilities cope with the double whammy of increased weather events together with a need for mass workforce training that comes with new, modernized infrastructure?
Valuable time can be lost during storm recovery efforts due to avoidable roadblocks. Among them are poor communications, travel delays, lack of proper training for frontline workers, and a shortage of available experts to assess storm damage and make recommendations. Unless addressed, each of these factors will not only hamper future storm recovery efforts but will also impede deployment of the infrastructure upgrades required to modernize the grid.
There is a solution. Digital transformation solutions like Librestream's Onsight platform are changing how companies everywhere are conducting business. With remote collaboration and advanced augmented reality capabilities, Onsight enables technicians and external contractors alike to instantly access expert support, critical documentation, and relevant data from anywhere in the country or world. They're able to seamlessly collaborate with others in the organization on a live video call, view digital work instructions and other troubleshooting information, leverage the experiences of external contractors and suppliers, share what they're seeing with team members, and capture critical knowledge for the future.
With remote collaboration solutions, utility companies can significantly reduce their travel and labor costs while expediting repairs, improving worker safety, and, most importantly, getting the lights back on. If you're currently exploring digital transformation solutions for your organization, reach out to a member of our team. Let us show you how we can help your workforce remain safe and resilient even in demanding situations.