Volvo Optimizes Aftermarket Tech Support by Virtually Bringing Expertise into the Field.
---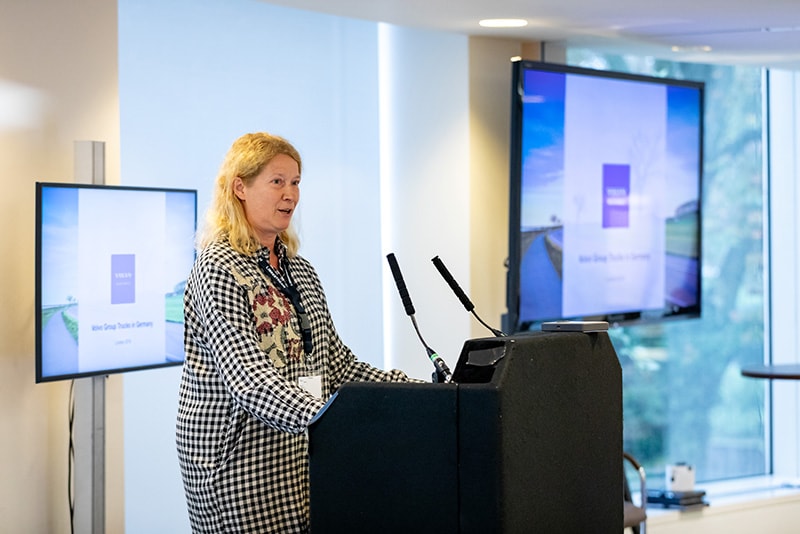 Our Librestream User forums are an excellent opportunity for customers to connect with each other. The format provides ample opportunity to uncover best practices and lessons learned to accelerate deployment of the Onsight Augmented Reality platform.
Sometimes these insights come during interactive break-out sessions, and in other cases, learnings come from the presentations shared by leaders within our customer base.  The presentation by Tina Bender, Senior Project Manager at Volvo Group Trucks Germany, at the London forum is an excellent example. Tina shared her team's valuable experience, describing how they deployed Onsight to improve technical support and results within the aftermarket group.
The Situation:
With over 145 workshops and dealers located across Germany, the internal aftermarket tech experts (PQE) at Volvo Group Trucks Germany handle upwards of 80 technical cases per person each month. Often, these issues require PQE staff to travel to the location, which impacts overall service and operational results.
Volvo undertook the Industrial Video Project to enhance services, maximize productivity, accelerate issue resolution, and reduce costs.
Volvo Requirements:
The Volvo aftermarket team required a simple solution that was easy to learn and immediately deployable across a wide range of network environments. The ability to operate on a variety of devices was important to facilitate use on mobile devices and wearables for hands-free operation.
The top 3 business objectives included:
Time savings by reducing the lead time required to solve product and technical issues
Cost savings by decreasing asset downtime and travel costs
Quality control by providing immediate information and supporting the 145 workshops with a just-in-time solution
Solution:
After an extensive investigation of potential solutions, Volvo chose to move forward with Librestream's Onsight platform and deployed on PCs, mobile devices and Realwear HMT1 wearables.
To see the solution in action, watch Volvo show how they are using Onsight in combination with the HMT1 to see and hear content between locations and technicians. You will see key features such as remotely controlling zoom or lighting, taking pictures or videos, drawing on screen, sharing drawings and more.
Post Written by: Mike Murphy, VP, International Operations