Missed the Fireside Chat? Here are Some Key Takeaways
---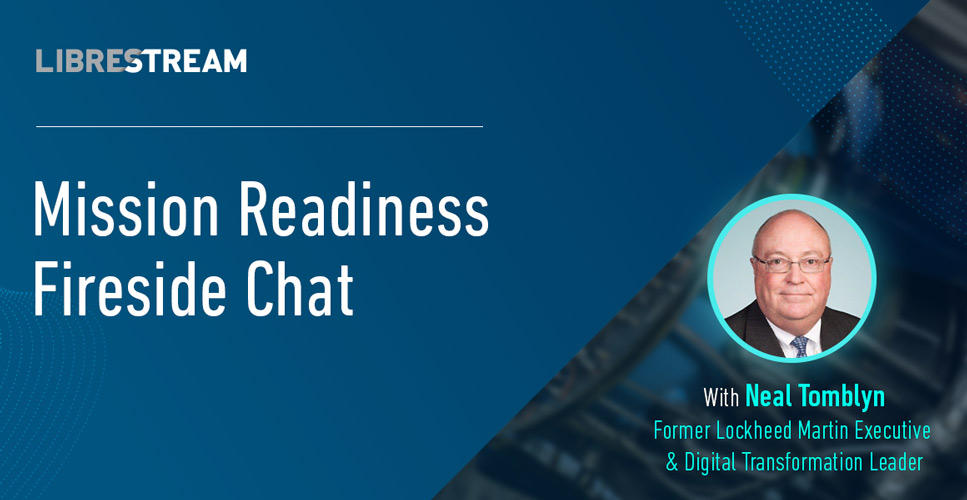 Learn how augmented reality in defense is helping sustain assets, capture knowledge, and maximize business outcomes
On, August 25 Librestream's VP of Product, Marieke Wijtkamp, sat down with former Lockheed Martin executive, Neal Tomblyn, to discuss how lower mission readiness rates affect the armed forces and how augmented reality (AR) can help improve these rates.
If you missed this interactive webinar, here are some quick highlights from the event:
Maintenance Issues with Aging Aircraft
The DoD's ageing aircraft fleet presents unique challenges to mission readiness. Take, for example, the F-16 fighter planes. Despite years of use and an ageing technology stack, the F-16 continues to be a part of the U.S. defense fleet. However, the lack of compatible spare parts and expertise across international supply chains has lowered mission readiness. The main reason for these supply shortages is the age of the F-16s.
While AR can't help overcome the parts shortage, it plays a vital role in ensuring defense field teams have the right expertise at the side of aircraft. Advanced remote expert capabilities can connect maintenance workers to experts worldwide on any device and in any environment.
The Workforce is More Transient
On average, workers today only spend 2.8 years in a job. This, in addition to a retiring workforce, has meant that defense organizations have had to re-evaluate how they capture knowledge and train employees. Paper-based processes are shifting to digital, and knowledge capture has become more intuitive. Platforms like Onsight can help workforces efficiently capture knowledge and train new employees with capabilities like digital work instructions, IoT visualization and more.
The Effect of COVID-19 on Digitization
While defense organizations were already adopting digital transformation technologies before 2020, the pandemic accelerated the demand for these technologies across all industries. Before the pandemic, equipment breakdown often required input and expertise from subject matter experts (SMEs) across the globe. The travel time required to get these experts on the field, along with the associated costs, often delay issue resolution by several days, thereby critically hampering mission readiness of defense assets. When the pandemic hit, in-person meetings with SMEs were no longer an option due to travel restrictions.  To help overcome this challenge, several organizations adopted AR to bring important voices to the table. The result: improved collaboration, enhanced productivity, and reduced costs.
While we have only covered a handful of insights in our blog, you can learn more by watching the webinar on-demand here.