Maintaining a Virtual Presence
---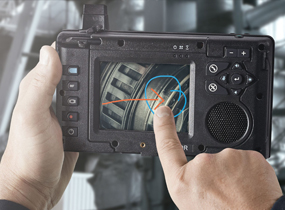 The recent issue of Security & Border Protection Magazine features an article written by Jereme Pitts on the need for mobile video-based collaboration capabilities to enhance situational awareness within military operations.
In this article, Jereme explores the various real world examples of how the military has taken advantage of some of Onsight's core capabilities including: remote collaboration, bandwidth control, secure communication with end-to-end encryption and much more. Some of the core use cases within the military, which Jereme touches on include:
Remote equipment or facility inspection
Streamline maintenance and repair
Situational awareness
Training and mentoring in field
Hazmat inspection
Article Preview:
Military teams can virtually collaborate anywhere, anytime and with anyone on a moment's notice from any location. Onsight provides full security over content with end-to-end encryption and security; control over bandwidth usage to manage strict military networks; integration with standard video conferencing systems; and centralized control over Onsight licenses and overall management of the system. Central experts can even remotely control the camera in the field, while all parties see the same video, talk, share images and telestrate onscreen.
Continue reading the full article here.