How Augmented Reality is Solving Critical Workforce Challenges in Utilities
---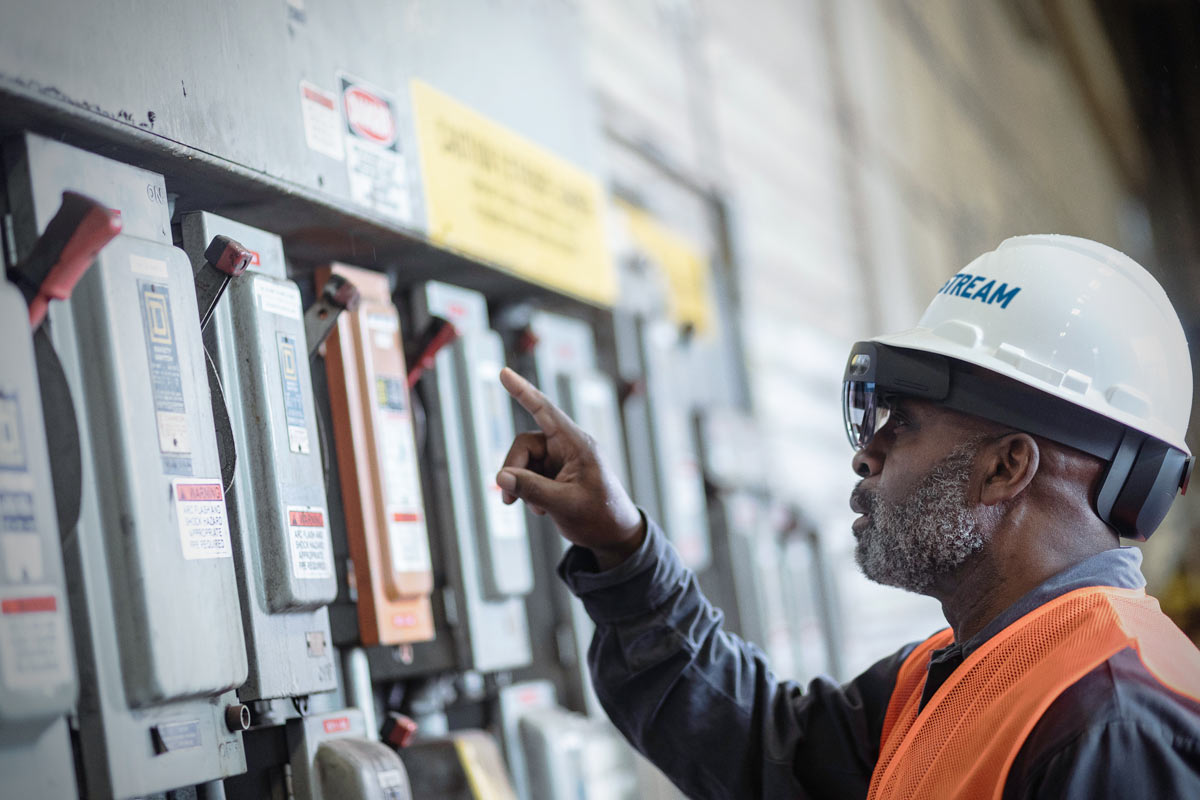 Here's how utilities most commonly use AR-enabled remote collaboration solutions to ensure service reliability and consumer satisfaction
A report by ABI research identified that the augmented reality (AR) market in utilities and energy is expected to grow to $18 billion USD by 2022, of which platform licensing and smart glasses will make up the majority. This growth isn't surprising. Like many verticals, utilities are grappling with unprecedented challenges that include external factors like a global pandemic, regulatory mandates, failing grid infrastructure, changing consumer behaviors and expectations, as well as internal pressures to invest in clean energy sources while reducing O&M costs.
Digital transformation technologies are rising to the challenge. AR-enabled remote collaboration in utilities empowers front-line and field workers to access relevant data, content, and expertise they need when and where they need it. This technology can help preserve critical workforce knowledge, enable remote communication in hazardous and rugged environments and improve on-the-job training and onboarding.
Today, more and more utilities are seeing the value that platforms like Onsight bring to the table. In fact, in a study conducted by Panasonic, it was reported that 81% of utilities expect the importance of augmented reality for the mobile workforce to increase even more over the next three to five years. So, how are these organizations currently using or planning to use AR for their critical workforce? Let's explore some common use cases.
Knowledge Sharing and Capturing
Over 50% of the utility workforce will retire in the next decade. For an industry that relies heavily on the knowledge of its most experienced workers, retirements of this scale will result in the loss of critical operational knowledge. AR-enabled remote collaboration solutions offer organizations the opportunity to capture this knowledge in a central knowledge network through videos, images, digital work instructions, IoT sensors, and artificial intelligence. This knowledge can then be shared across various teams and train a new generation of workers.
Enhancing Remote Collaboration
The pandemic has helped organizations realize that having the right person in the right place and at the right time isn't always possible. AR technologies can help your workers on the field access the right data, content, and expertise they need when they need it. With this technology, workers can collaborate with the control center, remote team members, and subject matter experts on a live video call, record the session for future training opportunities, tag relevant data, and more. Remote expert technologies, like Onsight, work across any device and fit well into the growing trend of headsets and wearables in the field.
Finding Efficiencies
A recent study found that by 2030 the global workforce shortage will exceed 85 million. In addition to the retirement wave, talent and skills shortages will hinder utilities' ability to ensure reliability and consumer satisfaction. As a result, executives are tasked with finding efficiencies and ultimately doing more with less. With AR technologies, organizations can ensure their workforce can access experts and data at the touch of a button. Remote collaboration ensures that only necessary personnel are on the field. This limits the need for secondary dispatch and reduces truck rolls and asset downtime caused by bringing experts from across the country (or world) to the field.
In addition to the common use cases mentioned above, our utility clients report that AR has helped them reduce O&M costs, improve storm recovery processes, reduce trips to the field, enhance worker safety and improve training and onboarding.
If you're evaluating your business needs, give this Gartner® report a read. This report explores the needs of the industry and offers recommendations to drive technology innovation and digital transformation. Download your complimentary copy here.
If you would like a demo of Onsight, please reach out to our team!