Here's Why A&D Executives Should Invest in Digital Transformation
---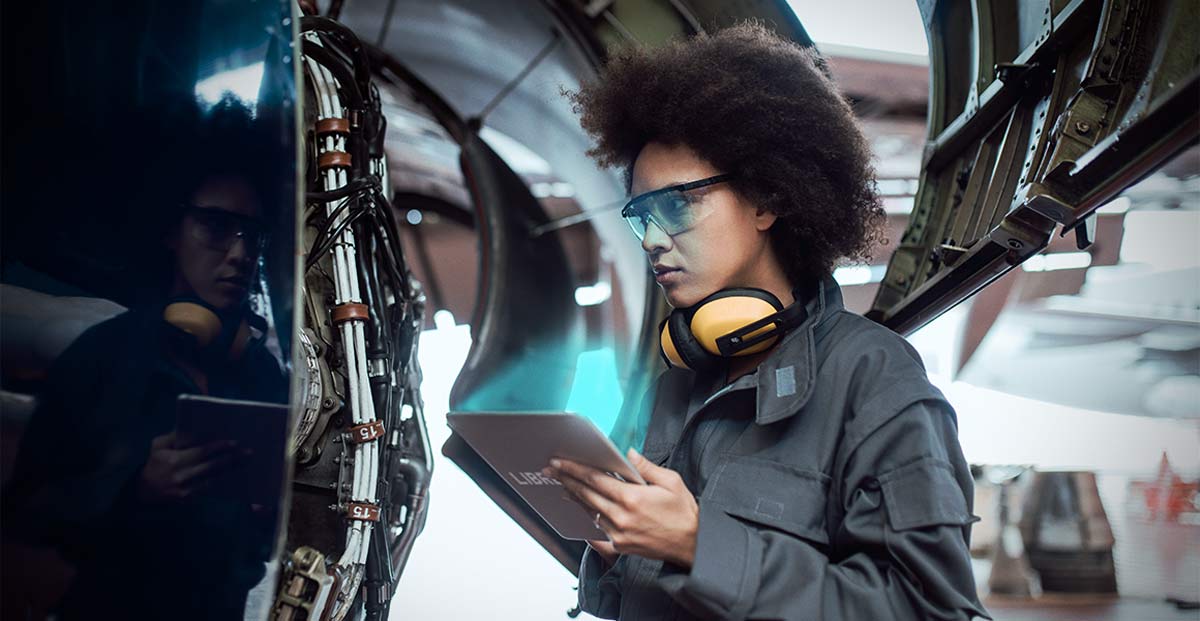 The AR market in the A&D industry is expected to grow from US$3.9 billion in 2018 to US$5.8 billion by 2026, a CAGR of 37.9%. This growth isn't surprising. Over the last two years, we've witnessed the need for and the impact of workforce technologies. From empowering your workforce remotely to being connected with subject matter experts (SMEs) across the globe, workforce technologies like AR remote collaboration solutions have become a staple for businesses.
WHY INVEST IN DIGITAL TRANSFORMATION
During the pandemic, organizations across verticals, including those in the A&D industry, grappled with supply chain disruptions. It became apparent that traditional work practices were no longer sustainable. Companies needed to become agile, flexible, and resilient to survive the post-pandemic world. As a result, technological innovation and establishing smart factories became top priorities for aerospace and defense organizations. According to a survey by BCG, 79% of respondents of A&D executives identified remote work tools and solutions as the biggest category of digital investment.
Deploying digital transformation solutions ensures that A&D supply chains remain resilient and efficient. With the right technology, organizations can limit the number of personnel in the field, remotely perform audits and inspections, connect with their global suppliers and OEMs, and improve supply chain transparency and traceability. In addition to ensuring supply chain visibility, digital transformation technologies help organizations in the industry remain competitive.
Some common use cases of this technology in the A&D sector are:
Remote support and mentoring
Digital transformation solutions with remote collaboration capabilities allow field workers to get the support they need when they need it in any location and on any device. Subject matter experts (SMEs) can collaborate with field workers and technicians to fix assets faster, reduce AOG and ensure the safety of aircrafts. With these technologies, organizations can ensure faster decision-making and a safer and more efficient workforce.
Streamlined documented processes
Manual and paper-based processes can be turned into digital work instructions with the right technology solutions. By offering step-by-step guidance and digitizing workers' days, organizations can streamline processes, make it easier to train new workers on the job, and help technicians find the answers and data they need quickly.
Unscheduled AOG maintenance
Unscheduled AOG maintenance delays can be very expensive. One way to ensure faster issue resolution is by providing field technicians access to all relevant content, knowledge, data, and expertise they need to complete their tasks fast. By doing so, organizations can limit the number of experts required to be onsite to fix the issue and connect with them remotely to improve asset uptime.
On-premise knowledge network
Digital transformation solutions that offer on-premise knowledge capture capabilities can help organizations build a robust knowledge network. This knowledge network captures structured and unstructured knowledge from experienced workers through notes, digital work instructions, recorded video calls, images, IoT sensors, and AI computer vision. This knowledge is then used to enhance new employee training and on-the-job upskilling.
If you're considering adding digital transformation solutions to your technology stack and want to calculate your ROI, use our free value calculator today!
Want to explore Onsight further? Book a free demo call with a member of our team. During this meeting, you will have the opportunity to see Onsight in action and see how it can help you achieve your specific business goals.