Digital Transformation: Setting Up for Success
Top three aspects that are critical to the success of a digital transformation strategy
LNS Research identified that almost half of industrial organizations are either in the pilot or implementation stages of digitizing their operations. These digital transformation or industry 4.0 strategies are focusing on operational efficiency, worker safety and customer satisfaction.
At the core of these initiatives is the Connected Worker.  A recent study by LNS Research states:
 "The rise of the digitally Connected Worker reflects the conventional wisdom that improvement, whether incremental or step-change, calls for holistic alignment to the right people, process, and technology capabilities."

– LNS Research: Connected Worker: Connecting People and Systems to Transform Frontline Operations. 2019
While selecting the most valuable technology is important, creating a successful environment for digital transformation is essential. Here is a break down of the top three aspects that are critical to the success of any digital transformation strategy.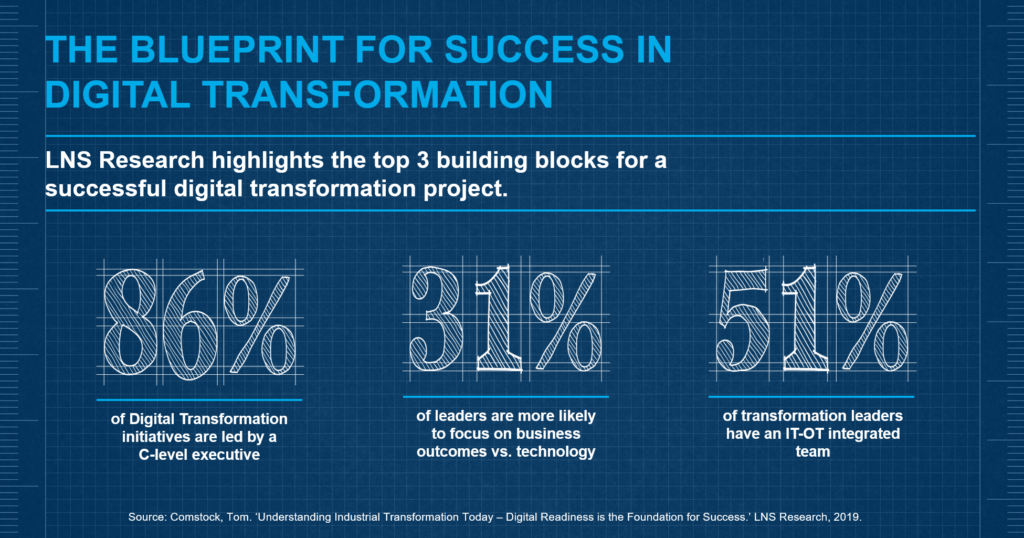 Lead with Executive Sponsors
Alignment with corporate objectives and strategies is important for long term success of digital transformation strategies. Technology that relates to existing or future corporate strategies will gain top down support and budget. Check-in meetings with leadership teams can ensure that the project remains relevant. LNS Research reports that 86% of digital transformation initiatives are led by a C-level executive.
Focus on What Matters
While the type of technology deployed is critical to the success of implementing digital transformation, focusing on the business outcomes are typically more important. Creating a business case provides stakeholders with a clear document outlining your vision for the investment and its outcomes. In a recent report LNS Research states that 31% of digital transformation leading organizations are more likely to focus on the business outcomes vs. the type of technology.
Build an Integrated Team
When it comes to the types of business groups that sought out digital transformation technologies, Operations (OT), Information Technology (IT) and Innovation groups are the most common. All these groups have a major stake in the digital transformation strategy. LNS Research states that 51% of transformation leaders have an IT-OT integrated team.
Leading with sponsors, building an integrated team and establishing the business case are critical. Learn which technologies industrial leaders are more likely to implement as part of their digital transformation strategies in the LNS Research Connected Worker report including:
Augmented Reality – 90% more likely
Intelligent Wearables – 70% more likely
Remote Operations Centers – 71% more likely
IIoT Technologies – 154% more likely
Machine Learning/Artificial Intelligence – 100% more likely
For more information on how to implement a successful digital transformation strategy, contact us.
Written by: Marieke Wijtkamp, VP Marketing & Client Services at Librestream