Customer Perspectives: AR at Field Service Palm Springs
---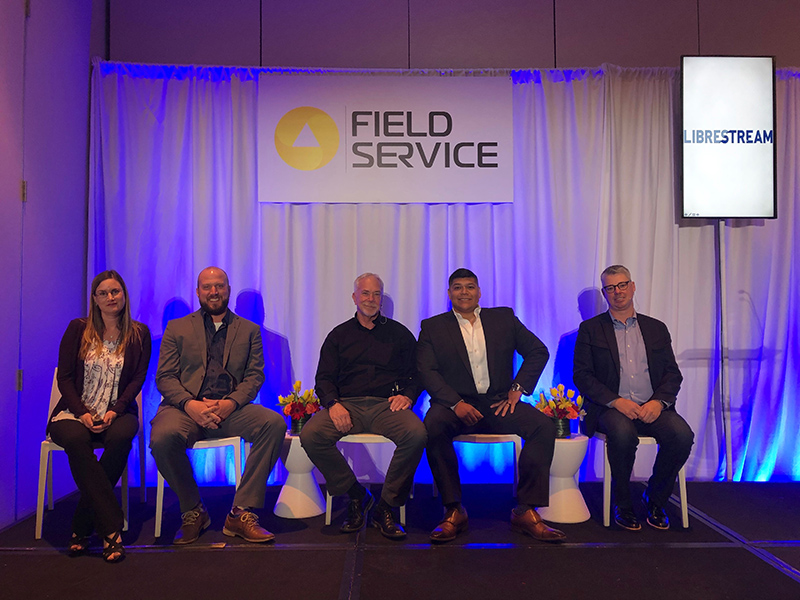 It was our 7th year at the Field Service event in Palm Desert. What an incredible change in how people are now talking about digital transformation. Check out the blog by Librestream's COO, Jereme Pitts, on this evolution: https://librestream.com/blog/field-service-coming-of-age/. Jereme shares how conversations with event attendees evolved from:
"This is a cool idea." – "We need to look at this." –  "We have a group evaluating this now."
Now, we are at the stage where we commonly hear "We are deployed and looking to expand."
Attending the conference sessions was an excellent opportunity to witness this evolution. This year, I also had the pleasure of moderating a workshop panel featuring digital innovators, Mark Norman of National Oilwell Varco, Corey Kettner of Ziegler CAT, Edgar Gonzalez of Case Construction, and Jereme Pitts. The panel topic 'Drive Higher Customer Success and Experiences with AR, IoT & Wearables' hit all the relevant discussion points around the digital transformation journey.
Jereme kicked off the panel with a view of the industry – sharing drivers captured in news headlines such as '10,000 baby boomers reach retirement each day in the US'. The first question for each panelist was 'what kick started their digital transformation journey'. This challenge of an aging workforce coupled with expectations of new digital workers and customers were a common thread. Mark, Corey and Edgar shared how finding technologies and approaches that close this knowledge gap and meet the digital expectations of customers, employees and dealers were critical.
While at various stages of deployment, the panelists all shared use cases that have already demonstrated results form using AR technologies to enable remote expert assistance, digital work instructions, and knowledge management.
We interviewed each of the panelists after the presentation, listen to what they had to say here:
Corey Kettner – Ziegler CAT
Mark Norman – National Oilwell Varco
Edgar Gonzalez – Case Construction
Stay tuned for the entire workshop presentation video coming soon.
Post Written by: Marieke Wijtkamp, VP, Marketing & Client Services