Cisco and Partners Create a More Secure and Efficient Grid at DistribuTECH 2016
---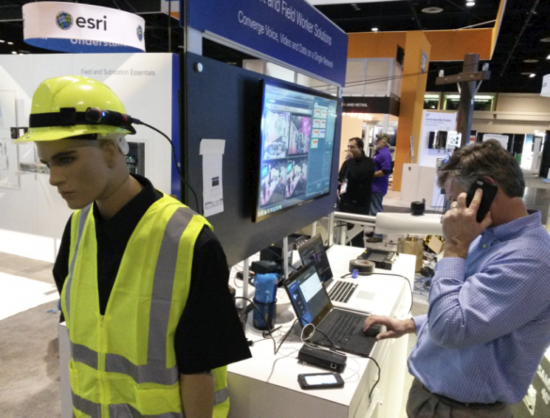 It was my third year of attending DistribuTECH and most attendees I met were no longer asking, "What's Cisco doing here," but rather, "What are you showing?" Many of the solutions we shared at our booth are made possible by partnering with other companies in the Utility space to help our joint customers achieve quicker business outcomes with lower risk.
We showcased solutions with 4 of our partners:
Librestream's mobile video collaboration solution
Of course we were showing their collaboration camera, but they also debuted a collaboration 'hub' this year. This device can connect to various video systems, such as the wearable you see on the hard hat below.
The solution is integrated with a few of our Cisco products: Telepresence, WebEx, and our wireless and core infrastructures. The handheld device is ruggedized and can be used in harsh environments that require 'intrinsically safe' devices. Our customers are experiencing a host of benefits: better safety, faster field response, and cost savings – especially in terms of equipment failure remediation.
OSIsoft's real–time data management software
OSIsoft is partnering with us to develop a joint fog computing solution. OSIsoft showed Cisco edge infrastructure (GSR, ISR, etc), at their own booth, illustrating how the Cisco IoX platform runs on various Cisco equipment and can host applications such as OSIsoft's PI (pronounced 'pie') information management software.
Utilities can now respond quicker to energy supply-and-demand changes by collecting and managing critical real-time operations data – which can cut costs and predict failures. We first talked about the changing landscape for customers in the power industry last year in our IOx press release. Many utilities companies will now be able to access data from places in the network that were previously inaccessible. Assets that have not previously been monitored in real time can benefit from the deployment of a secure, robust, and intelligent network infrastructure.
EATON Cooper's Cooper Power Series products
Many visitors were asking about the EATON Cooper equipment that we had on display. Readers might be familiar with EATON products and services in the Data Center, especially relating to UCS. This case was different. Both the EATON and Cisco booths were showing the Cooper Power Series products with Cisco 8X9 technology embedded.
This is a collaboration that helps provide a greater level of security encryption for communications to and from the devices. Cisco and Cooper Systems have had a relationship since 2011, and this latest development is undergoing development testing now.
Itron's smart meter solution.
Itron and Cisco have developed smart metering solutions for a next generation IP-based grid platform. Our customer BC Hydro was the first to deploy the IPv6 smart grid architecture as a key element of their Smart Metering Program.
BC Hydro serves nearly 2 million customers throughout British Columbia, Canada. I've blogged about that customer before (BC Hydro, Cisco and Itron – a Powerhouse in Canada), but it was a pleasure to hear directly from Fiona Taylor, Director, Smart Technology Operations & Restoration at BC Hydro, that they were losing around $100m in energy thefts before the AMI system went in, and they've cut that down by an amazing percentage. The culprit? Marijuana "Gro-Ops." Now they can more closely monitor and control when and where electricity is being used, and spot any out of line situations. It was an incredible story.
There were many other Cisco partners at the event, but I highlighted these four since they were featured at our booth.