How to Achieve Business Model Innovation with IoT
---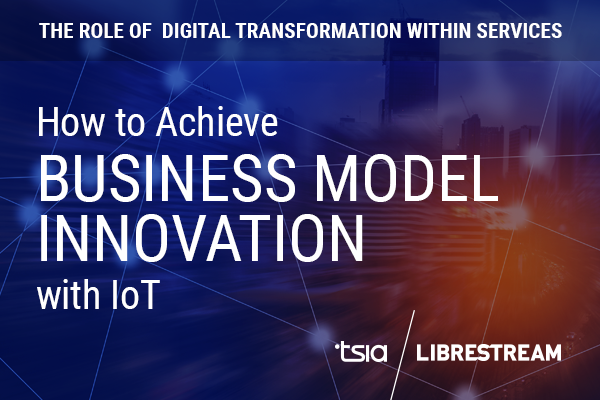 In a recent blog post "How to Monetize Services with IoT" we teamed up with TSIA and TSIA VP of field services and IoT research, Vele Galovski to talk about the technology trends driving digital transformation and how to monetize services. This interview is one half of the blog series "The Role of Digital Transformation Within Services". In the second part, TSIA interviews our COO, Jereme Pitts, to discuss how digital transformation is transforming business models.
Here's a preview of the blog:
"What is driving customers to adopt IoT, and how are these technologies impacting business models?

Business models overall are changing at a rate that neither I nor our customers have ever seen before. Based on the hundreds of conversations we've had with our customers and at events, there are two recurring themes that I see over and over again, regardless of whether their business model is service-based or product-based.

The first is that, when an organization builds a product, they have a very large service-based business around that product in the form of contracts with various terms. That's always how it has been; sell more units, get more service contracts. But lately, customers are no longer signing on for service contracts and want to just pay fair rates for only what they use. On top of that, customers want a guarantee that they can achieve specific outcomes with their investment.

This pressure is what's causing these new business models to emerge, meaning that suppliers must now position themselves to service their customers faster, more efficiently, more effectively, and also prove the outcome. To prove the delivery of that outcome is on track for the customer, product data needs to be captured, monitored, and analyzed, which is where the Internet of Things and smart, connected products comes in. (continued)"
To read the full blog "How to Achieve Business Model Innovation with IoT" click here. And if you missed our interview with Vele from TSIA, you can read it here.
For additional resources make sure to read TSIA's "Executive's Guide to Digital transformation and Monetizing IoT".