Librestream and ecom Join Forces to Improve Safety for the Oil and Gas Industry with the Cube-Ex Intrinsically Safe Wearable Camera
---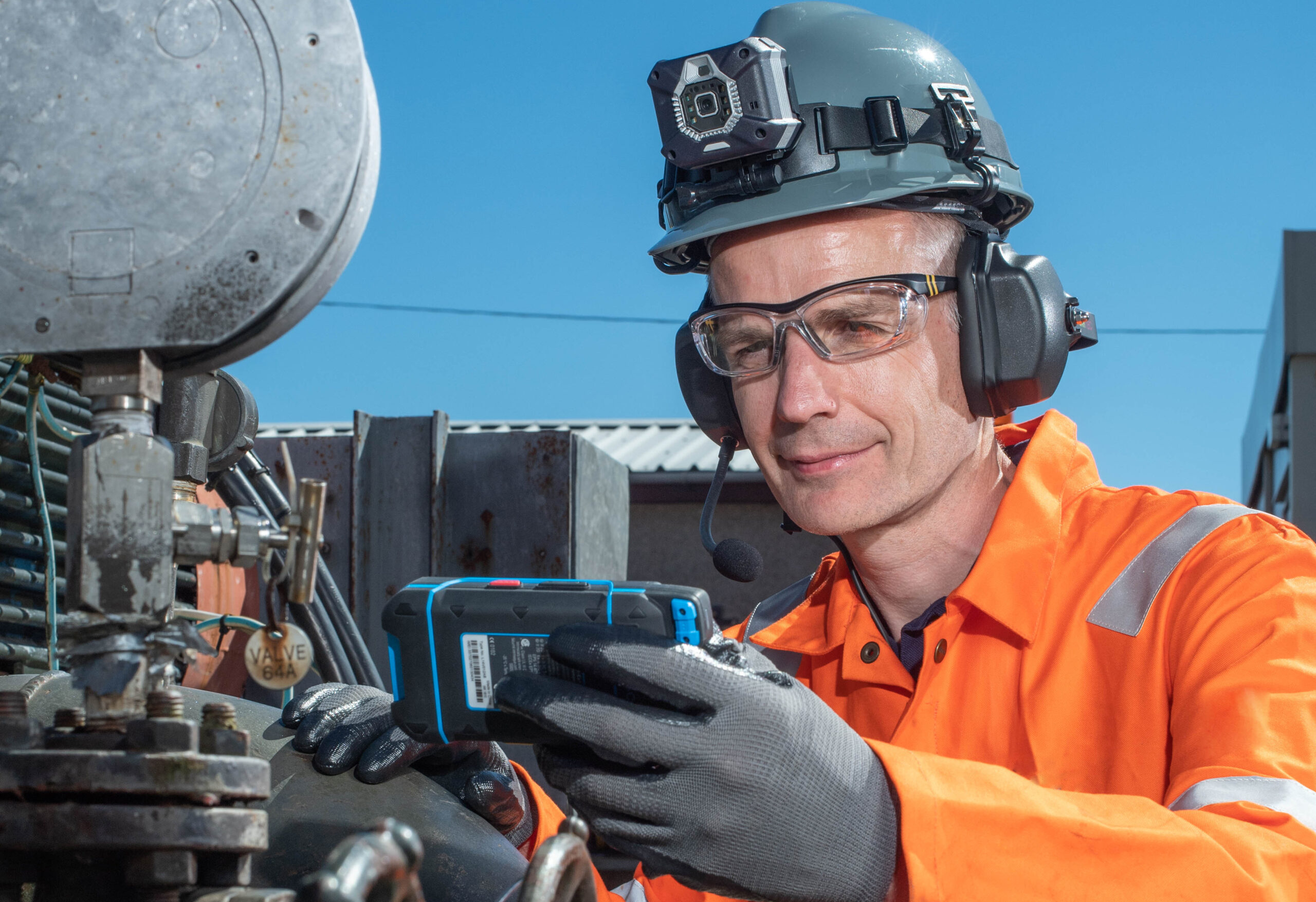 The compact, wearable camera with dual HD digital and thermal imaging for in-depth analysis in Ex-rated environments debuts in north america at OTC May 6 – 9
MAY 2019 (Houston, TX)  — Librestream and ecom, a Pepperl+Fuchs brand, announced today a collaboration on the latest innovation for asset analysis and safety inspections in hazardous locations—the Onsight Cube-Ex wearable camera. Librestream and ecom worked together to design, build, and certify this unique inspection tool for oil and gas workers in Ex-rated environments. By providing products that support safety, efficiency, and collaboration in the oil and gas industry, the Cube-Ex can ensure that work inside and outside hazardous areas is safer, more flexible, and more efficient than ever.
Using the Cube-Ex, workers on an oil rig, in a process facility, or beside an aircraft can safely inspect processes and analyze complex assets. By pairing the Cube-Ex with the intrinsically safe ecom 4G/LTE smartphone Smart-Ex or tablet Tab-Ex, workers can remotely control the camera, view HD video and thermal imaging, or capture and annotate pictures or recordings from a safe distance.
The versatile design of the Cube-Ex provides flexibility for workers to wear securely on a hardhat for hands-free inspections, attach to a monopod for hard to reach locations, or mount to equipment to view from afar. This innovation was a result of a co-development and joint go-to-market partnership between Librestream and ecom.
"For workers who are in potentially hazardous environments, tools that help them safely inspect assets and processes are limited. The Cube goes beyond building on previous award-winning imaging devices for these environments. We re-imagined the definition of an industrial wearable and integrated the latest in image quality, thermal and fusion capabilities. The Cube adds a new dimension to the traditional wearable category and delivers critical information to these digital workers," stated Kerry Thacher, CEO, Librestream. "With ecom, we partnered with the clear leader in intrinsically safe hardware to bring the world's first multi-purpose wearable with thermal imaging to the hazardous location market," explained Thacher.
The partnership also includes a distribution agreement for ecom to offer the product under the brand ecom Ex-Camera Cube 800.
"We've seen strong demand from customers for a companion device that brings thermal and wearable camera capabilities to hazardous location inspections," shared Roolf Wessels, Managing Director, ecom. "With Librestream, we shared a common vision to outfit workers with new digital tools. By adding the Cube 800 Ex-camera to our mobile worker ecosystem, our customers gain a valuable unique tool that can improve safety and overall efficiency," added Wessels.
Highlights of the Cube-Ex include:
HD Digital and Thermal imaging cameras including Fusion blended mode
Flexible design enabling hand-held, head-worn, mounted, and monopod use
Remote control of the Cube-Ex camera functions through paired ecom mobile devices
Built-in illumination for high quality visuals in low light environments
Annotation of pictures or recordings using shapes, text overlay, and spot temperature
Rugged design with Zone 1 and Class 1, Div 1 Ex-certified models*
Optional cloud content storage, remote expert collaboration, and digital work instruction capabilities available through the Onsight augmented reality platform
*certifications pending
The Cube-Ex will debut at the Offshore Technology Conference (OTC) in Houston, Texas, May   6 – 9. Visit the Pepperl+Fuchs/ecom booth #4261 or Librestream booth #915 to learn more about the new Cube-Ex intrinsically safe wearable camera.