Librestream Launches Augmented Reality Dimensioning Capability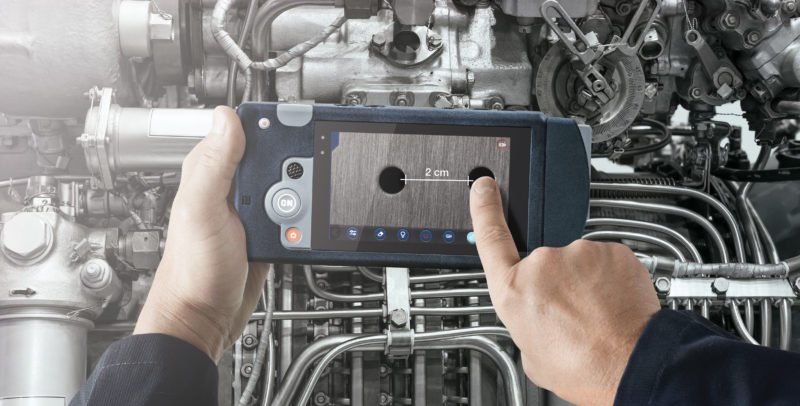 The Onsight 5000HD Smartcam now fully integrates augmented reality as part of the remote mentoring experience
Librestream, the leader in remote expert collaboration, has announced the release of its new dimensioning capability for the Onsight 5000HD Rugged Smart Camera and Onsight platform.
Recently announced as a finalist for the 2017 R&D 100 Awards, the Onsight Smartcam securely shares live audio, video, telestration and now dimensioning information with remote experts for rapid response in the field. As a secure appliance, the Onsight Smartcam is already approved for the most security stringent environments and enables remote video inspections by attaching specialized test instruments using the multi-port adapter. This new dimensioning capability adds another augmented reality element to the Onsight collaboration experience.
When dimensioning is activated, the Onsight Smartcam uses its built-in laser to estimate and display measurement information. This measurement information can be shared with remote experts during a live Onsight session or stored for later review.
"Empowering workers to quickly resolve issues in rugged, remote environments is our focus. This dimensioning capability is another tool for teams to use in their analysis of complex assets,  improving and accelerating decision-making," says Kerry Thacher.
The innovative design of the Onsight Smartcam, including its augmented reality features, has been recognized as a finalist for the R&D 100 Awards . The R&D 100 Awards have acknowledged new innovative products for over 50 years.
For more information on the Onsight Smartcam and dimensioning, please contact your sales representative or information@librestream.com.
About Librestream Technologies Inc.
Librestream Technologies Inc. is the leader in developing innovative mobile video collaboration solutions for field service, manufacturing, energy and public sector industries. Deployed globally, the Onsight video collaboration platform brings the eyes and ears of experts into the field virtually to immediately resolve issues and assess environments. Visit Librestream at www.librestream.com and connect with us on LinkedIn, Facebook & Twitter.
CONTACT INFORMATION
Marieke Wijtkamp
Vice President of Marketing & Client Services
Librestream Technologies Inc.
204.487.0612 ext. 259
marieke.wijtkamp@librestream.com